The tech and information industry brings in $30 billion in wages to New Yorkers. (image credit: Aurelien on Flickr) The report shows that there are 262,000 workers in the New York tech and info sector, paying out almost $30 billion in salaries per year. That space grew added on about 26,000 jobs since the 2007 downturn (an 11% increase). Brooklyns growth as a tech and info hub has outpaced every single large county in the United States, except San Francisco. Bloombergs report is quick to claim that the citys own moves to reinvent itself as a tech and startup hotspot are the underlying force behind these stats. Though they undoubtedly had an impact, the number of enterprises that make New York their home is profound and their need to stay technologically up-to-speed is enough to fuel growth in a number of digital and information sectors. Information has always been one of New Yorks greatest strengths. Constant advances in info-tech, and the ease with which new entrepreneurs can use it to start their own media enterprises, is another shot in the arm for the city. The technology and media space has also had an impact on real estate. The Midtown South region of Manhattan has seen cost-per-square foot surge in the past couple of years. Office space rents increases over 70% in the past decade with large jumps recently. In 2011 and 2012, rents for B-grade office space rose from $38 per square foot to almost $60 per square foot.
MLS' New York City Football Club Reaches Broadcast Deal With WFAN AM/FM
This multi-year partnership furthers the teams mission to bring the love of football to as many residents of New York as possible. WFAN is owned by CBS RADIO, and will be the first radio provider to broadcast Major League Soccer (MLS) in English in New York City. Were thrilled to partner with a station as prestigious as WFAN, said Ferran Soriano, CEO of Manchester City Football Club. This is a huge opportunity for the team to bring football to all New Yorkers, right from the onset of our playing debut. The deal provides WFAN with rights to air all of New York City Football Clubs MLS matches, in addition to the option to air any friendly matches played during the multi-year partnership timeframe. As the nations leading sports radio station, we always look for ways to bring every type of sport to the New York areas fans, said Don Bouloukos, Senior Vice President/Market Manager, CBS RADIO New York. Soccer is beloved across the world, and with the New York City Football Club coming to New York, its the perfect time to further ignite the passion soccer fans have and bring coverage and play-by-play of this new team to the Tri-State area listeners. The New York City Football Club is Major League Soccers 20th expansion club and will begin play in the 2015 season, becoming the first MLS club to call the 5 boroughs home. In addition to beginning play in 2015, the team will also be expanding its grassroots youth soccer program, City Soccer in the Community which has been active in New York City since 2010. About WFAN-AM/FM WFAN-AM/FM is the original and longest running sports station in the nation, celebrating its 26th anniversary this past July. With more listeners than any other station of its kind, The FAN provides audiences across the tri-state area with live and local programming 24 hours a day, seven days a week, and is home to award-winning personalities Mike Francesa, Boomer Esiason, Craig Carton, Joe Benigno, Evan Roberts and Steve Somers. The station is the flagship broadcast home for several area sports teams, including the New York Giants, New York Yankees, Brooklyn Nets, and New Jersey Devils. Listen to WFAN on-air, online at and via the Radio.com app for a variety of mobile devices. You May Also Be Interested In These Stories
New York Mets: 2013 Regular Season Final Grades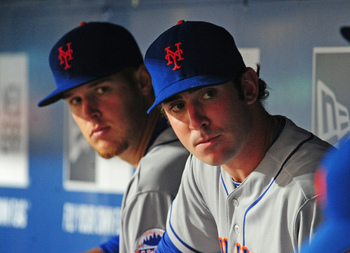 normally I write like this." Banksy authenticated the works by publishing them on his website and within hours they were located and defaced. Banksy may have started out as a graffiti artist in western England but his work now sells for millions in the coveted evening contemporary art auctions at Christie's and Sotheby's. Missing Banksy mural found in Florida Rapper uses wall as 'graffiti sketchbook' Politics and art in Turkey Iranian artists coloring the world His foray into the film business even earned him an Oscar nomination. Banksy knows that his reputation was made on street corners, not in establishment hang-outs like the auction rooms of London and New York. It's art but it's also a treasure hunt — a race to locate the work before the vandals. Next to each piece is a toll-free number that the finder can call to receive an audio commentary of the work whilst standing in front of it. Banksy was an early adopter of social media. It was the perfect tool to allow him to communicate directly with fans whilst also protecting his anonymity. He's using Instagram because it doesn't matter where you are, you can see what's going on. The more traditional use of a toll-free number is intended to make it feel like you're in a museum. The lingering question is: Will anyone locate Banksy himself and publish that picture on Instagram? Well I've been trying for years.
Banksy sets New Yorkers on race to find street art before vandals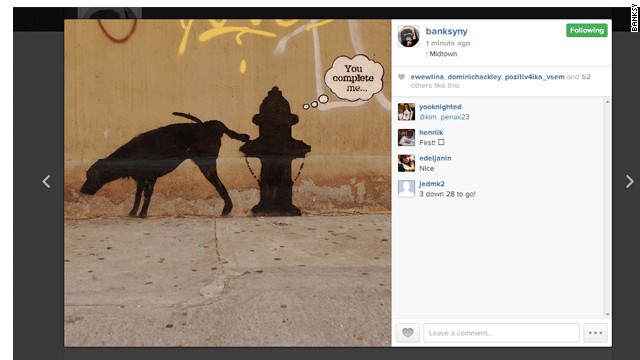 Final Grade B Pedro Felilciano rejoined the Mets after spending two seasons on the disabled list as a member of the Yankees . He made 25 appearances in August and September and showed some signs of his old reliable self. In total he threw 11.1 innings with an ERA of 3.97. Final Grade B Vic Black was part of the Marlon Byrd and John Buck trade with Pittsburgh . In his brief tenure with the Mets, Black looked solid and finished with a 3-0 record, one save, one blown save, four holds and a 3.71 ERA. Final Grade B+ Simply put, Robert Carson was awful. In 19.2 innings he allowed 21 hits, nine home runs and 18 earned runs. His cumulative ERA was 8.24. Final Grade F Murphy and Wright had solid seasons. Scott Cunningham/Getty Images The only consistent part of the Mets' infield this season was at second base where Daniel Murphy played in 161 games. Otherwise, Ike Davis struggled yet again and was demoted to the minors.