An index of 55 food items tracked by the FAO fell to 199.1 points from a revised 201.4 in August, the Rome-based United Nations agency wrote in an online report today. The gauge is down from a record 237.9 points in February 2011 and at the lowest level since September 2010. The decline in food prices was driven by a 6.1 percent drop for grains, as all other components of the index rose, led by sugar, the FAO said. Global corn production will jump to 943.2 million metric tons in 2013-14 from 862.9 million tons in the previous period, the International Grains Council forecast last week. The sharp decline in September follows an already sizable drop registered in the previous two months, reflecting a generally favorable supply outlook, particularly for maize and rice, the FAO said, using another name for corn. The FAOs grain price index fell to 197.7 points last month after sliding 7.5 percent to 210.6 in August, slipping to the lowest level since August 2010. In a separate report, the FAO cut its outlook for 2013 world grain production by 3.1 million tons to 2.49 billion tons on a reduced outlook for wheat output, still rising 7.7 percent from 2.31 billion tons in 2012. The wheat outlook was lowered by 5.2 million tons to 704.6 million tons. International wheat prices were mostly unchanged from August on rising demand and a reduced outlook for harvests in Southern Hemisphere growers, according to the FAO. Sugar The FAOs sugar index rose 1.8 percent to 246 points, after unfavorable weather hampered harvesting in the center-south region of Brazil , the worlds largest producer of the sweetener. Rising demand in India due to festive seasons provided short-term price support, the UN agency wrote. An index of meat prices advanced 0.9 percent to 175.7 points, while the FAOs gauge for cooking oils and fats added 0.4 percent to 186.3 points.
www.ncaffa.org . COOKING CLASS: Chef Kermit Griffin teaches a class on Southern fall favorites. 6:30-8:30 p.m. $45. Hill Center at the Old Naval Hospital, 921 Pennsylvania Ave. SE. 202-549-4172. www.hillcenterdc.org . WINE CLASS: Wines of Paolo Bea from Umbria, Italy. 7 p.m. $40. Chain Bridge Cellars, 1351 Chain Bridge Rd., McLean.
Food truck frenzy: Another festival announced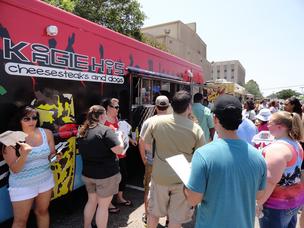 9. Following the success of a food truck fest at Stereo Live in May , event producer NightCulture Inc. announced Wednesday that the facility will host another next month. The Nov. 9 event at 6400 Richmond Ave. will bring together 20 of Houston's most popular food trucks, including favorites like Chi'lantro BBQ (featured on The Food Network and The Cooking Channel), LadyBird Food Truck (winner of CultureMap's best grilled cheese sandwich) and The Waffle Bus (also featured on The Food Network and one of the official 2013 SXSW food trucks). All food trucks will feature at least one $3 signature item in addition to their regular menus. Tickets are $12. There will be no charge for children 12 and under. Meanwhile, another food truck event a Haute Wheels Food Truck Festival, featuring 35 food trucks a will be held Oct. 11a13 at Houston Community College's Southwest campus on the 610 loop near the Southwest Freeway. Haute Wheels' $16-per-day ticket doesnat cover food but does include $5 of beverage coupons and a $1 donation to the Houston Community College Foundation.